Building & Strengthening Evangelical Alliances
The WEA Alliance Engagement Department (AED) seeks to strengthen existing Evangelical Alliances and establish new Alliances in places they do not yet exist. The AED, accordingly, equips and establishes alliances to be visible, viable and vital entities that impact the nations with the Kingdom of God.
Mission:
The AED exists to serve the member Alliances of the WEA through liaison, communication, resourcing and collaboration with other departments, ministries and services of the World Evangelical Alliance.
Vision:
The AED envisions a culture within the WEA where member Alliances:
Have a tangible commitment to UNITY across the body of Christ;
Articulate an influential VOICE for justice and the kingdom of God in their context;
Are renowned for their SERVICE toward churches and ministries in their nation;
Have a sense of VISION and strategic purpose for what God is calling them to;
Operate with a committed LEADERSHIP team and a strategy for next generation leaders;
Are financially and operationally SUSTAINABLE within their cultural context;
Express meaningful PARTNERSHIP and contribution with other members of the WEA.
Decade of Disciple Making
The WEA envisions a decade during which the existing momentum of alliances, networks, churches, and partner ministries becomes aligned in an intentional focus on disciple-making, development of emerging leaders, and intergenerational interaction — all for the purpose of spiritual renewal and societal transformation.
Global Institute of Leadership
The Global Institute of Leadership (GIL) is a virtual worldwide training initiative focused on assisting National Evangelical Alliances in over 140 countries on board governance, leadership skills, communication, vision casting, financial sustainability and public service engagement.
CRISIS RESPONSE COORDINATION CENTER
CRCC exists to bridge National Evangelical Alliances and global actors in the field of funding and strategies for disaster mitigation.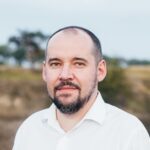 Ruslan Maliuta
Facilitator
Decade on Disciple-Making Task Force